Godzilla King of The Monsters is a toy line created by Trendmasters in 1994. They realeased 6 inch, 4 inch and 10 inch Godzilla figures. The line started out with Godzilla, Mothra, Mecha-Godzilla, King Ghidora, Mecha-King Ghidora and Rodan. Later on they added Biolante, Gigan and Battra. However, they never made ten inch figures of them. After the success of the toy line, they made Godzilla Wars, which is a sequel to this line.
Main Figures (6 inch)
Edit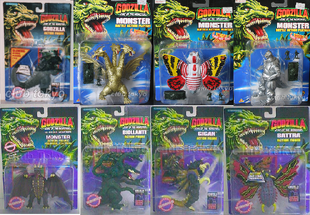 Godzilla
Rodan
King Ghidoah
Mothra
Mecha-King Ghidorah
Mecha-Godzilla
Gigan
Biollante
Battra
Battle Pack Figures (4 inch)
Edit
Godzilla Battle Packs came with a 4 inch Godzilla toy and another Godzilla monster with a trading card.
Godzilla vs Rodan Pack
Godzilla vs King-Ghidorah Pack
Godzilla vs Mothra Pack
Godzilla vs Mecha-Godzilla Pack
Godzilla vs Mecha-King-Ghidorah Pack
Godzilla vs Gigan Pack
Godzilla vs Boillante Pack
Hatching Monsters (2 inch)
Edit
This set came with an egg, a tiny Godzilla (or a Godzilla monster), and a card.
Godzilla
Rodan
Mothra
King-Ghidorah
Mecha-Godzilla
Large Scale Figures (10 inch)
Edit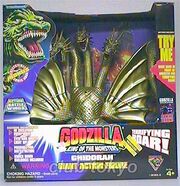 The box contains a Godzilla monster and a comic book.
Godzilla
Mecha-Godzilla
King-Ghidorah
Mecha-King Ghidorah
Rodan
Mothra
For this subject's image gallery, see Godzilla Trendmasters/Gallery
Godzilla, Mothra, Rodan, Mecha-Godzilla, King Ghidorah and Mecha-King Ghidorah appeared in every single line.